The beach is what St. John is all about.
Whether one enjoys snorkeling, swimming, diving, or just laying on a towel soaking up the sun, St. John has dozens of beaches for your pleasure. All the beaches of St. John are the property of the people and cannot be privately owned, some however can only be reached by boat or by paying for access if arriving by land.
The National Park Service charges a use fee of $4 for those aged 16 and over, for regular visitors a $10 annual permit is available as well as a $15 family permit. These fees only apply to Trunk Bay and Annaberg Plantation, the park is free to all and only one of the many lovely beaches has a use fee. Amenities at Trunk Bay include showers; a snack bar that sells sandwiches and cool drinks; a water sports shop that rents snorkeling equipment and beach chairs; and a small gift shop. There is also a very nice under sea snorkel trail with plaques to point out various items on the ocean floor.
A kiosk operated by Eastern National and staffed by Friends of the National Park volunteers at Trunk Bay provides Park information and literature. Information is also posted on bulletin boards located throughout the Park.
Beaches on St. John range from the powdery white sands of Trunk Bay, Cinnamon Bay and others to the many small shell and coral beaches the surround the island.
Some of the beaches of St. John
Salomon Bay Honeymoon Bay Caneel Bay Scott Beach Turtle Bay

Hawksnest Beach Gibney Beach Denis Bay Jumbie Bay Trunk Bay

Cinnamon Bay Maho Bay Little Maho Francis Bay Salt Pond Bay Beach

Leinster Bay & Waterlemon Cay Frank Bay Brown Bay Kiddle Bay
St John Beach Pictures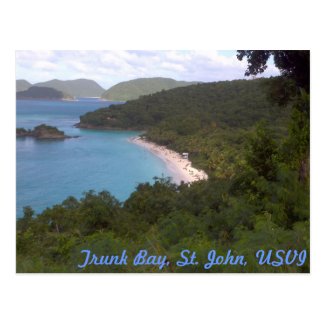 Trunk Bay Postcard
by
The_Beach
Create one-of-a-kind
picture post cards
at Zazzle
Turn your photos of the beach into just about anything.

Here are some of the world's other great beaches
Playa El Agua, Isla Margarita, Venezuela
Photos and information on Margarita Island's most popular beach. Playa El Agua is 3 miles of white sand and palm trees...
Plage Malendure
Learn about Guadeloupe and it's beautiful black sand beach, Plage Malendure.