CRUZ BAY, ST. JOHN, USVI
Welcome to Cruz Bay
Cruz Bay is the main landing point for visitors to St. John, USVI. The ferry landing, taxi stand and the bulk of the islands shopping and restaurants are located in Cruz Bay. Visitors needing to get anywhere on the island can do so via taxi, there are fixed rates posted in the cabs, most of which are open air trucks with rows of seats in the back and a cover. Prices are fair considering the time it takes to get around the island and there is a lower charge per person based on the number in a group. If renting a car, all of the car rental locations are spread around right in Cruz Bay so you should get directions ahead of time, they will all be an easy walk from the ferry. If staying in a villa, many of the Villa management companies will send someone to meet and greet and provide a ride to the villa or to pick up a rental car. Again, this is something you should inquire about ahead of time.
Upon arriving at the ferry dock in Cruz Bay, the author recommends taking an immediate right turn on the beach and at very minimum, a short visit to The Beach Bar. There is no better way to get in the mood for St. John than enjoying a nice cold drink while staring at sailboats in Cruz Bay.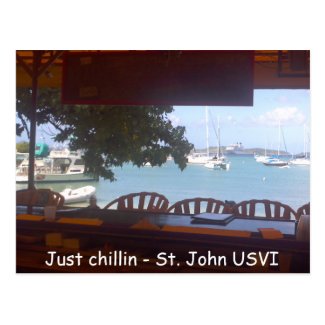 Chillin' on St. John
by
The_Beach
Make your own
custom photo postcards
on zazzle.
Turn your photos of the beach into just about anything.

©2002 to 2023 The Beach, A Property of The Moishe Co.